I have been professionally editing for over 18 years now. With every passing year, the quality of the equipment increases, my skill level increases, the efficiency of my process increases, and your footage becomes more and more precious.
What is the difference between you doing it, and me doing it on my computer?
There are two differences if you did it yourself with equipment/software from your home computer, versus me doing it. The first difference is the quality factor. The resolution quality of the image will not make a difference. Your computer software is most likely just as capable of producing the same image quality as was recorded on your old photography and video equipment. If you know how to use your equipment to adjust the audio quality, add nice looking titles, and/or adjust the brightness/contrast properly, then that part of the image quality will also be improved. But if you are not familiar or knowledgable about how to do that with your software, then you will not be able to IMPROVE the quality of the image in that way, which is the first difference, because I CAN improve your image quality. Which brings me to the second difference:
The main reason you would want to use me is because I am a professional and this will save you the headache. Think about growing your own food, cutting your own hair, doing your own plumbing, your own catering for a party, etc. Some people enjoy this and are either good at it, or very excited to learn to do it. If that describes you, and you have questions about how to use your software, you can hire me to come over your house and help you setup your system. I usually charge $30/hour for a house visit and I can guide you through setting up your equipment and helping learn how to push all the buttons correctly. If the prospect of this does NOT excite you, then you should pay me to do it.
What is the difference between you and the online companies with ads that say things like "as low as $12 a tape!"?
Many of those companies offer a cheaper deal if you have a larger order. For example, if you have 10 tapes or less, it would cost $20 a tape, but if you have 11 tapes or more, then you would get a cheaper quote per tape. If you have a smaller amount of footage, they would most likely cost the same as me. Actually, once you add in the shipping, they may cost more. Also, those usually come with conditions such as "no editing allowed." In addition, you won't have the option of talking to the actual technician doing the transfer. Many times, it is just a computer doing the work overseas and the operator may not even speak English. I am the only one doing the work so you have full access to doing anything to any frame of your footage. In addition to that, they usually won't give you the option of making a digital MPEG file, which I highly recommend for reasons explained below.
How do you determine how much it will cost me?
All jobs are different. Over the years, I have refined my pricing so that it is based on two simple factors:
1- How much footage you have.
2 - How much editing do you want to done to it.
All footage, regardless of the format it is on, can be broken down into 3 categories:
Footage that doesn't need any editing at all, just a straight conversion or transfer.
I charge $25 for every DVD mastered, up to 2 hours in length.
Footage that only needs specific stuff removed. (For example, you filmed the entire concert,
but after filming, you realize you only want to save the 5 minutes that your child performed in.)
Since these will end up in putting several tapes onto one DVD, it is the price above, plus $5 additional
for each cassette of raw footage, regardless of the amount of raw footage.
Footage that needs more editing done to it.

For categories 1 and 2, I can offer a simple flat fee based on the length of the final footage. For footage that fits category #3, I review the footage and we discuss what you want done to it. Then, based on an estimate of $30 per hour of my time, and give you a min/max quote. For example I might estimate: "all category #3 footage editing will cost you at least $50, but I guarantee it won't cost you any more than $100."
What exactly do you do to that Category #3 footage?
Category 3 footage can be a complete mix of footage that you have specific instructions for, and footage that you just say "clean it up, I trust your judgment" or anything in between. You can give me specific instructions such as "make sure you take this shot, and that shot out, but what ever you do, make sure you leave this shot and that shot in, and then just cut the whole reception down to something like 5 minutes."

In addition to any of your instructions, and without any additional cost to you, using my own discretion I will work on:
- removing all the "bad videography" shots, (upside-down cameras, camera accidentally left on, out of focus shot, too shaky because you were busy trying to adjust the settings on the camera, 2 minutes of nothing going on because you were waiting for the guest of honor to finally walk through the door before everyone yelled "surprise!")
- Adjust the color balance if any shot is obviously "unnatural" looking (too red, too yellow, too blue."
- Adjust the exposure so that shots that were too dark when filmed, are not as dark, and shots that look too bright, are also not too bright.
- Adjust the audio levels so that shots where the audio is faint, is now a little better, and shots that are too loud, are now a little quieter.

Amount of footage: I will give you a minimum/maximum estimate after I review your footage and we will agree with it in writing before I proceed (email and text are fine for communicating in writing to help simplify the process).

So let say you have 20 hours of raw unedited footage. If you say to me "I want that edited down to one DVD, 2 hours in length", I will review the footage and give you a min/max quote. If you say, "I want all 20 hours of footage kept and transferred, except for any shaky footage," I will review the footage and give you a min/max quote. Odds are they will both be very similar in price, because it will take the same amount of labor time for me to reproduce. But if you say "I have 20 hours and it all needs to be edited explicitly," then this quote will be much larger than the first two quotes because that will take much more time to edit.
Someone with real simple footage to edit might hear:
"Due to the nature of your footage, I estimate it will take at least 2 hours to edit all that footage, but I doubt it would take more than 4.. Therefore, I guarantee you it will cost at least $60, but I will not charge more than $120 for the entire job.

Someone with real complicated footage to edit might hear:
"Due to the fancy editing job you want, I have to charge $50 for every hour of footage I have to edit, and It appears you have somewhere between 4 hours and 6 hours of footage. Therefore, I guarantee you it will cost at least $200, but I will not charge more than $300 for the entire job.
Do I have to know exactly how much footage I have before I give it to you or can you review it and tell me in your estimate?
Most people rarely know how much footage they have total. However, if you can tell me roughly how much footage is on each tape, that can help me a lot to give you a much more accurate estimate range.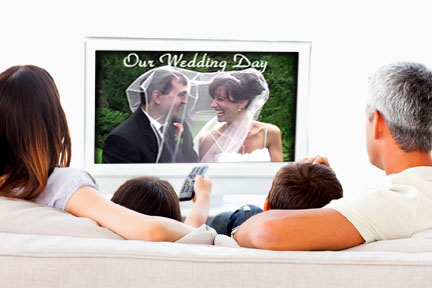 I have a limited budget to work with and I have more footage to edit than I think I can afford right now, what's your suggestion?
If you already have a ball-park figure in your head, let me know before I start reviewing your footage. For example, if you already know that you want the job done, and you have a minimum/maximum number in your head, it helps for you to tell me that before I look at your footage. If I am comfortable committing to those amounts, I can start editing right away and it makes the process much more efficient for all of us. I suggest you start editing some of the oldest, or most unkempt footage first, since that is the stuff that needs attention most urgently. For example, if you have footage of your children growing up, the tapes with them as a baby and an infant are up to 10 years older than the tapes you have of them at age 10 and 11. So the teenage years footage won't deteroriate to the point of the infant/toddler footage for another 10-15 years. I wouldn't wait another 10-15 years before you transfer that footage, but at least after doing a few tapes, you'll know how much it will cost, and you'll be able to save up for another batch of editing for next year.
What formats can you work with?
I am set up to work with ALL mainstream consumer formats from the past 50 years. (if you have Pal or Secam footage, check with me. If you don't know what Pal or Secam is, then you probably don't have it.)
FILM: 8mm, Super 8, and 16 mm
CASSETTE TAPES: VHS, S-VHS, VHS-C, 8, Hi8, MiniDV (standard or HD) and DVCam (fullsize or mini)
DISKS: CDs, CDrom, DVD (R, or RW or -Rs or +R's) or Blue Ray
DIGITAL FILES: Mpeg, Avi, Mov, Quicktime, Iphone files, Photoshop files, Mp4, mp3s, etc.
AUDIO: Vinyl Records, Cassette Tapes, 8-track (yes I can!), CDs, and any digital files like wav files or mp3s.
If you have something else, or are not sure of the format, don't worry about it. When I see the tape/reel/discs, I'll be able to figure it out.
Do you have suggestions for organizing the footage, tapes & reels before I give it to you?
YES! Two suggestions
Do your very best to put them in chronological order before I recieve them. Most people organize their tapes by the type of media it is. All thier VHS are in one box, all their film footage is in another box, etc. Get post-its, and put them in chronological order, regardless of whether all the VHS tapes are together and all the Hi-8 tapes are together. This will help me put all the footage in linear order so I start with the earliest.
Get post-its and assign each cassette/reel/etc. with a number starting at #1, and ALSO put the year/month the recording took place on that post-it. If your tape says "Rachel's 3rd birthday" and nothing else, on it, you know what year/month that is, but I have no idea. If you do this, you can then put them in any order for transport. The more info I have to work with, the better and easier it is to judge the "mystery footage".